Intransigence & Indifference: Essays Concerning Religion and Spirituality
Jarred James Breaux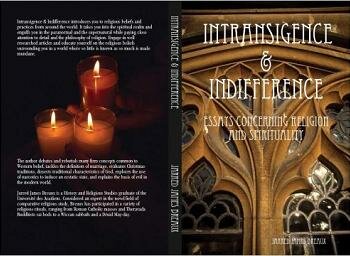 Intransigence & Indifference introduces you to religious beliefs and practices from around the world. It takes you into the spiritual realm and engulfs you in the paranormal and the supernatural while paying close attention to detail and the philosophy of religion. Engage in well researched articles and educate yourself on the religious beliefs surrounding you in a world where so little is known as so much is made mundane.

The author debates and rebuttals many firm concepts common to Western belief, tackling the definition of marriage, Christmas traditions, traditional characteristics of God, the use of narcotics to induce an ecstatic state, and the basis of evil in the world today.

Jarred James Breaux is a History and Religious Studies graduate of l'Université des Acadiens. Considered an expert in the field of comparative religious study, Breaux has participated in a variety of religious rituals, ranging from Roman Catholic masses and Laotian Theraveda Buddhists sai bods to a Wiccan sabbath and a Druid May-day.
Buy Directly from the Publisher:
Softcover Print: $16.95 ~ Hardcover Print: $21.95 ~ Download: $3.95
-----------
Buy from Amazon
Buy from Barnes and Noble
Buy from Borders
Buy from Blackwell
Buy from ABD Booksellers
Buy from Tower.com
Buy from Alibris
Published by Lulu
Lulu Enterprises, Inc.
860 Aviation Parkway, Suite 300
Morrisville, North Carolina 27560
www.lulu.com
ISBN 978-1-4357-1777-0 paperback
ISBN 978-1-4357-3788-4 hardcover
The Laotian Civil War: The Intransigence of General Phoumi Nosavan and American Intervention in the Fall of 1960
Jarred James Breaux

The Laotian Civil War: The Intransigence of General Phoumi Nosavan and American Intervention in the Fall of 1960 focuses on a specific event during American-sponsored "Secret War" in Laos. In the fall of 1960, General Kong Le overthrew the Laotian government that was established after Laos had declared their independence from France. However, Kong Le still recognized the power of the Laotian King, a person who was really at the mercy of the military generals. This thesis proves that General Phoumi Nosavan was intentionally uncooperative in negotiating a coalition government because he wanted to seize the city himself and appoint a Rightist pro-Western anti-Communist Prime Minister.
Softcover Print: $9.95 ~ Download: $3.95